Luminous Künstlers flat - Paris 18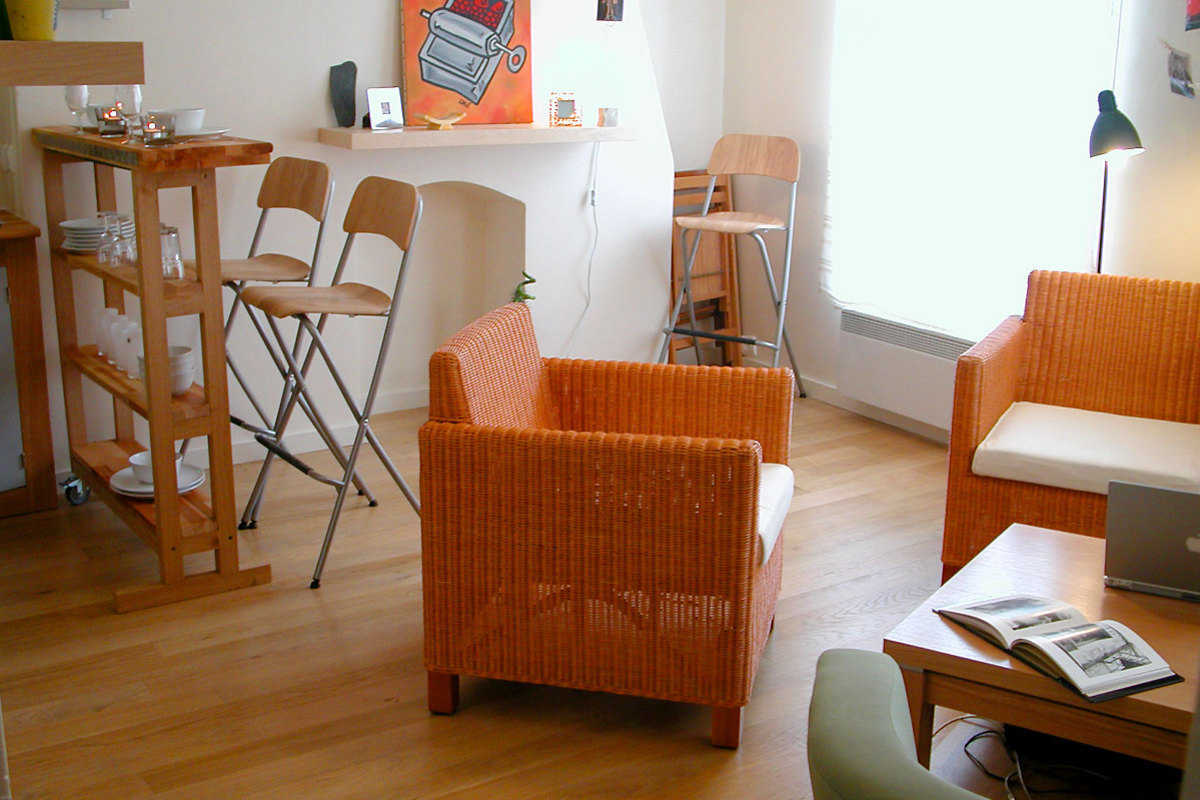 Anzahl von Gästen

4

Schlafzimmer

1

Badezimmer

1

Größe

40 m²

Stockwerk
Küche
Familien- / Kinderfreundlich
Waschmaschine / Trockner
| | |
| --- | --- |
| Adresse | Rue l'Olive, 75018 Paris, Frankreich |
| Unterkunftstyp | Ferienwohnung |
| Angebots-ID | BC1NVQKN |
Beschreibung
Von Wimdu verifiziert
Übersetzt von Google Translate. Beschreibung im Original zeigen. Komplett in einem traditionellen Pariser Gebäude renoviert, spiegelt dieses Künstlers flachen die Persönlichkeit seines Besitzers. Alles ist für eine gemütliche Atmosphäre gestaltet, von der Eiche Diele, die hellen Wände des Künstlers Vorhänge. Die voll ausgestattete Küche macht es möglich, dass Sie einige Mahlzeiten zuzubereiten. Bettwäsche wird gestellt, mit Ausnahme von Handtüchern. Das Hotel liegt auf der fünften Etage (ohne Aufzug), mit Blick auf die Fußgängerzone, die flachen profitiert von natürlichem Licht den ganzen Tag lang. Direkt vor dem Gebäude befindet sich eine permanente Markt in einer ruhigen und bunten Fußgängerzone, wo Sie in der Lage sein zu flanieren, sitzen an einem terrasse für einen Kaffee und machen Sie Ihre Einkäufe werden. Montmartre und der Sacré Cœur gibt nur zwei U-Bahn Haltestellen entfernt. Entlang des Canal d'Ourq, die nur 10 Minuten zu Fuß ist, werden Sie durch seine romantischen Seiten verzaubern und Sie werden in der Lage sein zu gehen bis zum Parc de la Villette oder unten, um Bastille für die mutigsten (es ist möglich, Fahrräder zu mieten) Bettwäsche wird gestellt.

BITTE KONTAKT ZU MIR NEHMEN, BEVOR EINE BUCHUNGSANFRAGE ZU SENDEN
Hausregeln
liens enthalten nicht die Handtücher (bitte bringen Sie sie zusammen)
Preise

Preis pro Woche für bis zu 2 Gäste
CHF 495
Preis pro Monat für bis zu 2 Gäste
CHF 1265
Preis für zusätzliche Gäste > 2
CHF 17 Extra pro Gast/Nacht
Bedingungen

Check-in ab
Nach Vereinbarung
Check-in vor
Nach Vereinbarung
Check-out vor
11:00
Stornierung
Flexibel
Bewertungen für diese Unterkunft
Mai 2014
Hello Again,
I stayed 2 periods so I can write 2 comments. I use them both due to an inappropriate rating on me that Erik wrote in RESPONSE of my 1st rating on his accomodation (under this one).
My WIMDU-rating written by Erik (I scored 2/10):
(
This boy is just too complicated and disrespectful: it does not respect schedules appointments, does not respond to the message when attempting to contact, always finds excuses to criticize, never satisfied yet comfortable conditions (it must luxury). I personally lent him my bike to help him, I found it broken, Nick does not have apologized, and did not warn me. The apartment was well noted "no wifi", I gave him my codes hotspot, it does not suit him. Yet he twice rented my apartment. Short! really too complicated, too young to be serious. I highly not recommend! ) .
Thank you Erik...
Is it to complicated to handle one complaint-mail (note: respectfully written) on the big things that were not as agreed on, or things that were an unpleasant surprise like the buildingworks.
Notes on Erik's message:
SATISFACTION & RESPECT - Even during my one complaint-message I stayed respectful and noted the good things about the accomodation and tried to flatter him to keep a good communication. Ex. " I like the personal touches you have given to the appartment, I know you are full of good intentions, I'm convinced you are a great person, etc..."
THE BIKE - We agreed on the bike in advance, Sylvina gave the key at my arrival. It was a normal bike but unfortunately the back axis broke during riding towards work, it was an old bike, I had to travel by metro for 7 days. I did try to repare it but I couldn't. I informed the contactperson Sylvina about it at my departure,we agreed this wasn't at all my fault but due to the accumulating cracks in the axis that happen over the years.
SCHEDULE APPOINTMENTS - Among the 4 scheduled arrivals and departures there was 1 time we agreed 16:30h ("seize heure") trough the phone, I thought it was 18:30h ("six heure")... Sylvina had to wait for me, I felt really bad about it, made good apologies for it and try to make it right by cleaning the apprtment more than I should.
WIFI - I asked specifically if WIFI was included in the price & he said that it was... I don't know how you can answer such question the wrong way without being dishonest towards a client and expecting no complaint about it... The codes I received for the hotspots (3 in total) didn't work or were codes where you have to confirm a code each time you visit another website-page...
I send a complaint mail which mentioned following subjects:
1. works building
2. Wifi
3. kitchen equipment
I asked him to make this things right, and how we can do this. I received an inappropriate response with the ending quote:
If you don't like the appartment, you can leave, no refunds.
.
It's a pitty to conclude this experience this way, make your own conclusions.
Appartment = OK
neighbourhood = Not OK
Host Sylvina = OK!
Host = Not OK
Greetings, Chose your accomodation wisely & Enjoy your Trip!
Mai 2014
Hello,
I'm a student, followed an internship of 8 weeks in Paris and I've fallen in love with the city. I had a beautiful time here.
Fo the accomodation I chose to book different places, most of the time I stayed in this appartment (6weeks total: 2 periods of 3 weeks booked -in advance-).
I'm an easy-going guy with no high demands, I'm a student and a frequent traveller, I adapt really quickly... I had a beautiful stay in paris, It was an unforgettable experience and I will never forget but I have to be honest.... When you ask me to give a rating on the accomodation as itself it could be better:
Good things about the accomodation:
+ I had a very good contact with the middleperson Sylvina, she was a very nice person and helped me a couple of times during my stay. (one time we had a problem with my first checking-out = a misunderstanding in hour (my french isn't as good as it should be :-) ) but I did everything to make this right.
+ You have plenty of room, it's a very big appartment with an open feeling
+ Nice street during the day, beautiful, alive and there are some good bars
+ Definitely suitable for more than 2 persons
+ A (fresh) market right beneath you
+ bathtub
+ Metro 1-2 minutes walking away
+ ....
Bad things:
- The quiet neighbourhood... Almost every day (week & weekend) there were
OR drunk guys and women (not the good and funny ones) screaming until at least 12PM
OR there was some fight between rivalising groups (aged 15-24) at my doorstep = Many nights I didn't sleep well, I didn't liked this at all. You can here everything very clear because there is no double glass installed in the windows
- Following on the things above: I didnt go out as often I wanted to during the evenings/ nights due to these kind of people at my doorstep. The times I did i didn't fight or something, but 3 times I've experienced some agressivity with contact(!) by these ridiculous people.
ex.: They ask a sigaret, i say no, push me several times, threaten me, following, NO fighting but this is definitely not pleasant. During the weekends my girlfriend was with me, if these people see a beutiful women it isn't funny as well...
- There were works on the building (la façade) during the whole stay, Erik did not mention this in advance. I didn't apreciate this.
- We agreed a price for the 6 weeks which included Gas, Water, Wifi, etc. There was and is no NO wifi. I asked specifically if there was WIFI, if I knew there wasn't i wouldn't have booked this accomodation...
- Fully equiped kitchen doesn't include an oven or a magnetron
-....
I had a really good stay here so I would rather give a good rating but the bad things just piled up...
I'm no fan of the appartment.
Bye Bye,
Nick
Wimdus Versprechen
Wir stellen die beste Qualität unserer Unterkünfte & Dienstleistungen sicher
Die Qualität der Unterkunft ist geprüft
Jeder Gastgeber wird telefonisch verifiziert
Sichere Bezahlung mit SSL-Verschlüsselung